Product Information
MEMORY ADJUSTABLE PROFILING MATTRESS
This layered foam mattress is constructed from a Visco/memory foam topper and a supportive, filler-free reflex foam base to provide pressure-relieving benefits.
CONTOURING COMFORT
The Memory Adjustable Profiling Mattress has a top layer containing memory foam. This is designed to adjust to the contours of the body and distributes pressure around the body to enhance deep sleep and provide pressure relief.
REDUCES MOTION TRANSFER

Within the top layer of the mattress is Visco foam which reduces the amount of movement that is transferred through the mattress. This is ideal for restless sleepers who move around during the night and share a bed.
SUPPORTIVE SLEEP
The Memory Adjustable Profiling Mattress uses a comfort support foam to provide proper postural support. This helps to alleviate pain in the joints throughout the body whilst you sleep, keeping you comfortable and well supported.
FIRMNESS: MEDIUM/FIRM
The Memory Adjustable Profiling Mattress is rated as medium to firm. The comfort support foam is designed to support your body and weight-bearing areas, its high density encourages proper posture whilst the foam provides cushioning and comfort.
VENTILATED COOL WEAVE COVER
The ventilated cool weave cover protects the mattress to prolong its lifespan. It also prevents excess heat build-up when you lie on the mattress which helps to keep you cool during the night, this helps regulate your body temperature for ultimate comfort.
5 YEAR WARRANTY
Sleep with peace of mind knowing we've got you covered. When you purchase The Memory Adjustable Profiling Mattress we provide a 5 Year Warranty as standard. For more information speak with us.
Mattress Size : Single 3' 0", Single 3' 6", Single 4' 0" Firmness: Soft / Meduim
Metric

Imperial

Length
2000mm
6ft6
Width
- Small Single
- Single
- Small Double
- King Dual
- Super King Dual

750mm
900mm
1200mm
2 x 750mm
2 x 900mm

2ft6
3ft
4ft
2 x 2ft6
2 x 3ft
Depth
220mm
9"

Firmness Rating
4 (Medium/Firm)
Composition
Base Support Foam and Visco Topper
Cover
Premium Weave Polyester with Temperature Regulation
Warranty
5 Years
Harrow Showroom:
78-80 Station Road, Harrow, Middx. HA1 2RX.

Telephone:
020 3974 2624

Letchworth Showroom:
Birds Hill, Letchworth, Herts, SG6 1HX

Telephone:
01462 418041

Email:
enq@mobilityworld.co.uk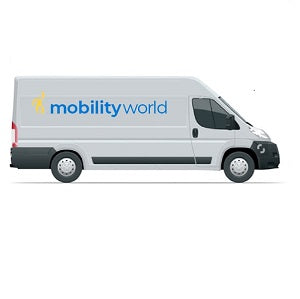 FREE DELIVERY ON ALL ORDERS OVER £99.00
ORDER YOUR PROFILING MATTRESS NOW FOR FAST DELIVERY TO YOUR DOOR